New Orleans, LA
OCT 30-NOV 4, 2017
$3,490

Early Bird Pricing Available:
$3,141 through AUG 31, 2017 | $3,316 through SEP 30, 2017
Grou
p Room B

lock (limited availability)

CTI Group Rate: $195 single/double, expires October 6, 2017

Hotel Phone: (504) 523-3341
The Authority in Matters of Value®
The Exit Planning Institute (EPI) is proud to provide members and clients the best resources and partners to help grow his or her exit planning practice and if valuation is a field in which you are interested, look no further than NACVA.  The National Association of Certified Valuators and Analysts® (NACVA®) is the leading valuation professional organization providing superlative certified valuation training programs, including the most widely recognized valuation designation: the Certified Valuation Analyst® (CVA®).  NACVA has dominated the valuation industry for over 25 years and will provide professional valuation analysts with the most intuitive tools and resources to effectively execute certified valuation engagements.
---
Certified Valuation Analyst® (CVA®)
Understanding and applying the generally accepted business valuation methodologies and approaches, and adhering to professional standards that govern the business valuation profession, will put you in a stronger position to better serve your clients.  Gain credibility in the business community and demonstrate competency to the courts by achieving a certification in business valuation.
The Business Valuation Certification and Training Center (BVTC), offered live in cities throughout the U.S., live online, or through self-study, delivers the most comprehensive and complete foundational training teaching to the body of knowledge on how to value private business enterprises. The training prepares attendees to pass any business valuation certification exam offered in the profession; particularly the CVA designation offered by NACVA. 
 
---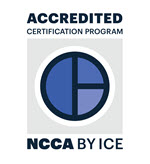 NACVA's CVA Designation is Accredited by the National Commission for Certifying Agencies® (NCCA®)
NACVA's Certified Valuation Analyst (CVA) designation is the only valuation credential accredited by the National Commission for Certifying Agencies (NCCA), the accreditation body of the Institute for Credentialing Excellence™ (ICE™). The Institute for Credentialing Excellence's mission is to promote excellence in competency assessment for practitioners in all occupations and professions. This prestigious recognition differentiates CVA credential holders as having met the most stringent standards in the industry.
---
How Will You Benefit
After completing this course, attendees will be able to:
Identify the fundamental steps to valuing a business, from beginning to end n Identify an appropriate valuation method within the valuation approaches based on the specific purpose and standard of value for a given valuation assignment
Determine the most appropriate financial analysis of a subject company as it relates to a specific valuation engagement
Identify the foundations of the business valuation analysis process as well as the value drivers that support a subject company's value
Recognize the differences in the various standards of value for businesses and the nuances of their application in a business valuation engagement 
---
What You Will Cover
Days 1 and 2: Business Valuations—Fundamentals, Techniques & Theory (FT&T)
Structure the elements of a valuation engagement from financial and operational analysis through to a conclusion of value
Analyze financial and operational information for a business entity as it relates to a valuation engagement
Differentiate the methods found in the three approaches to valuation—Asset, Income, and Market, and determine when it is appropriate to use each approach
Identify methods and data sources for developing discount and capitalization rates
Determine appropriate adjustments (i.e., premiums and discounts) to be applied to an indicated value
Employ professional standards for the development and reporting of a valuation/calculation engagement
Day 3: Business Valuations—Applications and Calculations of the Income and Asset Approaches
Determine a value using the Adjusted Net Asset Method under the Asset Approach
Determine when it is appropriate to use a Capitalization of Single-Period Earnings Method vs. Discounted Future Earnings Method under the Income Approach
Identify appropriate normalization adjustments to apply to a business entity's balance sheet and income statement
Calculate a normalized benefit stream under the Income Approach
Day 4: The Market Approach—Exploring the Pricing Component
Recognize the theory behind the Market Approach including its rationale, standards of value, main methods, and governing principles.
Identify the key challenges in the application of the Market Approach and explain the current best practices used by valuation practitioners in overcoming and/or minimizing these challenges.
Determine when the use of the Completed Transaction Method and/or Guideline Public Company Method is appropriate under the Market Approach.
Identify the steps in selecting guideline companies and completed transactions relevant to the Subject Company.
Describe the most commonly used valuation multiples, their corresponding drivers, and applicability depending on what level of value is being sought.
Explain the process of adjusting valuation multiples to account for differences in size, growth, and business risk. 
Day 5: Valuation in Action—Case Studies: Applying the Principles and Techniques
Identify the key challenges, requirements, and nuances in conducting a valuation analysis for various special purposes.
Identify the steps in the analysis and valuation of a company in a typical valuation engagement.
Apply the three main valuation approaches—Assets, Income, and Market in a live case.
Describe the key sections of a valuation report and how to connect the narrative to the quantitative analysis.
Explain the process of reconciling the different indications of value in the valuation analysis.
Day 6: CVA Proctored Exam
The online five-hour proctored exam is given at all locations on the Saturday morning following the training.
---
Credentialing Resources
---
Who Should Attend?
---
This course is paperless.  Attendees will be provided a link to course material that will be used during the course, so attendees will need a laptop with Internet access.  The CTI will provide electric power and Internet access, but will not provide laptops.  Attendees are encouraged to bring their own mobile wireless modem or hotspot device.
---
Non-Member Package Pricing
(Before Early Registration Discount)
 
Days 1 and 2 (18 Hrs CPE)
$1,200
Day 3 (9 Hrs CPE)

$600

Day 4 (9 Hrs CPE)
$600

Day 5 (9 Hrs CPE)

$600

First-year NACVA Membership

$495

CVA Certification Exam

$595

Live Option Package: Five-day training, plus First-year NACVA Membership, and CVA Certification Exam (45 Hrs CPE)

$3,490

Package Price after 10% Early Registration Discount

$3,141
Ultimate Membership
—Includes unlimited training, membership dues, and recertification fees. $315 per month.
Click here for details.
---
CPE Hours
Delivery Method
Group-Live
Program Level
Intermediate
Advanced Preparation
There will be some advanced preparation work with this course.
Prerequisites
Attendees should possess a good understanding of accounting, taxes, economics, finance, and a basic understanding of business valuation fundamentals.
Fields of Study
Accounting
10
 
Business Law
2
 
Business Management & Organization
5
 
Economics
4
 
Finance
10
 
Management Services
8
 
Taxes
6
Total CPE Hours
 
45
Earn an additional two hours of CPE with attendance at the optional study groups on Tuesday and Thursday evenings.  For more information regarding CPE, Program Levels and Fields of Study please 
click here
.